On March 3-4, 2014 NIRS held its Fifth Annual Retirement Policy Conference, "On the Money? A Close Up Look at Americans' Retirement Prospects", at the Washington Court Hotel in Washington DC.
For more and more Americans, a secure retirement is a dream that is unlikely to become a reality. The breakdown of a once-strong retirement infrastructure has left most middle class Americans in a position where they don't have a fair shot at retirement after a lifetime of work.
Retirees are seeing cuts to their expected retirement income, and millions are at risk of falling into poverty. The average working-age American household is completely off track with only $3,000 saved for retirement. Younger generations seem to have lost hope, buried under debt and high unemployment. For women and Americans of color, the retirement crisis is far worse because they typically earn lower salaries and are less likely to have retirement plans.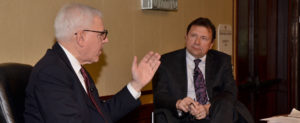 Download the conference materials:
Speakers included:
Ray Boshara, Senior Advisor, Assistant Vice President, Federal Reserve Bank of St. Louis
Jack Ehnes, CEO, California State Teachers' Retirement System
Cathie Eitelberg, Senior Vice President, Segal Co.
Matt Fellowes, Founder, CEO, HelloWallet
J. Mark Iwry, U.S. Department of the Treasury, Senior Advisory to Secretary Timothy Geithner, Deputy Secretary, Retirement and Health Policy
Nancy LeaMond, Executive Vice President, AARP
Mark Miller, Journalist
Congressman Earl Pomeroy, Senior Counsel, Alston & Bird, LLP
Robert Reisktl, Principal National Retirement Plan Design Consultant, AON Hewitt
David M. Rubenstein, Co-Founder, Co-CEO, The Carlyle Group
Dallas Salisbury, President, CEO, Employees Benefit Research Institute
Lisa Greenwald Scheider, Research Director, Greenwald & Associates
Damon A. Silvers, Director of Policy, Special Counsel, AFL-CIO
Dr. Christian Weller, Professor, Department of Policy and Public Affairs, University of Massachusetts; Senior Fellow, Center for American Progress
Steve Yoakum, Executive Director, Public School and Education Employees Retirement Systems of Missouri
At the 2014 Policy Conference, NIRS released a new report documenting state by state pressures facing future retirees. Download the Financial Security Scorecard: A State-by-State Analysis of Economic Pressures Facing Future Retirees here.