On February 27-28, 2017, NIRS held its Eighth Annual Retirement Policy Conference, Retirement Policy Game Changers: Tackling Retirement Readiness, in Washington DC.
Access video of the conference here!
At the conference, we examined the issues like Americans' views of the retirement crisis; rethinking retirement in a changing political landscape; and creating a bipartisan plan to ensure retirement security for Americans.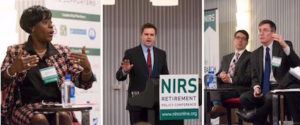 Download conference materials:
The conference featured distinguished thought leaders including:
Keith Brainard, Research Director, National Association of State Retirement Administrators (NASRA) Senator William Cassidy, R-LA
Representative Joe Crowley, D-NY
Lynn Dudley, Senior Vice President, American Benefits Co
Scott Evans, Chief Investment Officer, New York City Office of the Comptroller
Teresa Ghilarducci, Director, Schwartz Center for Economic Policy Analysis at the New School
Fiona Greig, Director of Consumer Research, JPMorgan Chase Institute: Presentation here
Melissa Kahn, Managing Director, State Street Global Advisor Presentation here
Michael Kreps, Principal, Groom Law Group
James B. Lockhart, III, Co-Chair, Bipartisan Policy Center's Retirement & Personal Savings Commission: Presentation here
Gerri Madrid-Davis, Director, Financial Security & Consumer Affairs, State Advocacy, AARP: Presentation here
Janice Mays, Managing Director, PricewaterhouseCoopers
Helaine Olen, Author, The Index Card
Cherelle Parker, Councilwoman, City of Philadelphia
Brian Perlman, Senior Vice President, Greenwald & Associates
Earl Pomeroy, Former Congressman and Senior Counsel, Alston & Bird LLP
Ida Rademacher, Executive Director, Financial Security Program, The Aspen Institute
John Scott, Director, Retirement Savings Program, The Pew Charitable Trusts: Presentation here
Jon Sheiner, Former Ways and Means & NAGDCA
J.D. Vance, Author, Hillbilly Elegy
Aliya Wong, Executive Director of Retirement Policy, U.S. Chamber of Commerce