On February 26-27, 2018, NIRS held its Ninth Annual Retirement Policy Conference, Refocusing Retirement: Taking the Long View, in Washington, DC.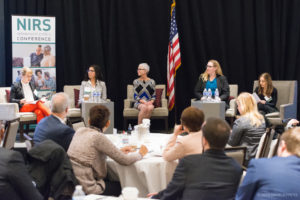 Access video of the conference here!
At the conference, we examined the issues like Americans' views of the retirement crisis; rethinking retirement in a changing political landscape; and creating a bipartisan plan to ensure retirement security for Americans.
Watch videos of the conference on Youtube here!
Download conference materials:
The conference featured distinguished thought leaders including:
Dr. Kate Bahn, Economist, Washington Center for Equitable Growth
Ken Bertsch, Executive Director, Council of Institutional Investors
Jennifer Brown, Manager of Research, National Institute on Retirement Security: Download the presentation here
Alfred Campos, Director, NRTA: AARP's Educator Community
Owen Davies, Pension Transformation Global Managing Director, Accenture: Download the presentation here
Stacey Dion, Managing Director, External Affairs Group, The Carlyle Group
Honorable Gene Dodaro, Comptroller General, U.S. Government Accountability Office
William (Flick) Fornia, FSA, Founder, Pension Trustee Advisors: Download the presentation here
Michael Hairston, Senior Pension Specialist, National Education Association: Download the presentation here
Kathleen Johnson, Vice President, Pershing, a BNY Mellon company
Thomas (Tom) Lee, Chief Investment Officer and Executive Director, New York State Teachers' Retirement System: Download the presentation here
Mark Miller, Journalist and Author, Reuters
Helaine Olen, Journalist
Honorable Peter Orszag, Vice Chairman and Managing Director, Lazard Freres & Co LLC: Download the presentation here
Ronald D. Peyton, Executive Chairman, Callan
Akio Tagawa, Principal, Linea Solutions: Download the presentation here
Samantha Vargas Poppe, Associate Director, Policy Analysis Center, UnidosUS
Dr. Christian E. Weller, Professor, University of Massachusetts Boston: Download the presentation here