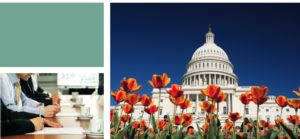 The NIRS Visionary or Director Circle is open to all Educational Sustainers and Associate Members who wish to enhance their involvement and commitment to NIRS. Members of the Circles receive additional benefits and work with the NIRS board of directors to shape and contribute to the national dialogue on retirement security issues. As a 2023 Member of the Visionary or Director Circle, you will enjoy a wide range of benefits, including:
Visionary Circle
Registration for two to the annual Visionary Circle Insights and Impact Meeting with the NIRS Board of Directors and the nearly 30 retirement systems who are part of the Visionary Circle.
Prominent exposure and VIP Access at the NIRS Retirement Policy Conference
Complimentary registration for six people at the NIRS Retirement Policy Conference
Full Profile on the NIRS Members Only Website
All Director Circle benefits
Director Circle
Opportunity to work with NIRS on programs and webinars
Complimentary registration for four people at the NIRS Retirement Policy Conference
All Educational Sustainer or Associate Member Benefits
If you are interested in joining the NIRS Visionary Circle or Director Circle, please contact Dan Doonan, NIRS Executive Director, via membership@nirsonline.org or by calling 202-457-8190.