On February 29 – March 1, 2016, NIRS held its Seventh Annual Retirement Policy Conference, Retirement Realities, in Washington DC.
At the conference, we examined the issues and discuss the following questions: How real is the retirement crisis? What is the retirement reality for women? How do Americans really behave when it comes to their investment and managing their nest egg?
Did you miss the event? Watch the replay here.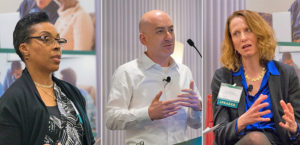 Download conference materials:
The conference featured distinguished thought leaders including:
Honorable Jan Schakowsky (D-IL), Congresswoman, Illinois' 9th Congressional District
Shlomo Benartzi, PhD, Chief Behavioral Economist of the Allianz Global Investors Center for Behavioral Finance Download presentation here.
Dr. Karen Dynan, Assistant Secretary for Economic Policy and Chief Economist, US Department of the Treasury
Steve Cummings, Head of North America Aon Hewitt Investment Consulting
Helaine Olen, Journalist and Author
Diane Oakley , Executive Director, National Institute on Retirement Security Download presentation here.
Christopher J. Ailman, Chief Investment Officer, California State Teachers' Retirement System
Kim Mustin, Co-Head of Global Distribution, BNY Mellon Investment Management
David Villa, Chief Investment Officer, State of Wisconsin Investment Board
Lauren Luchi, Manager, American Federation of Teachers' National Retiree Program
Alison Shelton, Senior Strategic Policy Advisor, AARP Public Policy Institute's Economics Team
Frances Denmark, Senior Writer, Institutional Investor's Magazine Group
Christian Weller, PhD, Senior Fellow, Center for American Progress; Professor of Public Policy at the McCormack Graduate School of Policy and Global Studies at the University of Massachusetts, Boston
Angela Antonelli, Executive Director of the Center for Retirement Initiatives (CRI), Georgetown University's McCourt School of Public Policy
Karine Raymond, Registered Professional Nurse, Director, New York State Nurses Association
Lara Hinz, Director of Programs at the Women's Institute for a Secure Retirement (WISER) Download presentation here.