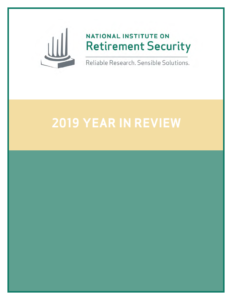 We invite you to review the National Institute on Retirement Security's 2019 Year in Review.
Some key highlights:
NIRS held its tenth annual policy conference, Retirement Security in America | How Can We Do Better?, in Washington, D.C. on February 25-26, 2019. The conference welcomed over 150 retirement leaders who heard from retirement policy experts, including Nancy Altman, President of Social Security Works; Scott Brabrand, Superintendent of Schools at Fairfax County Public Schools; Joshua Franzel, President & CEO of Center for State and Local Government Excellence; and Robert Friedman, Founder & Chair Emeritus of Prosperity Now.
NIRS reports and experts were cited in more than 130 news stories, including USA Today, The Wall Street Journal, The Washington Post, The Hill, and Forbes.
NIRS participated in more than 20 speaking engagements across the country.