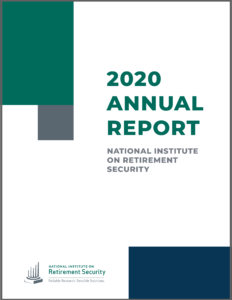 We invite you to review the National Institute on Retirement Security's 2020 Annual Report.
Some key highlights:
On March 2-3, 2020, NIRS held its 11th annual retirement policy conference, 2020 Vision: The Future of Retirement, in Washington, D.C. The conference welcomed over 150 retirement leaders who heard from various experts, including Alissa Quart, author of Squeezed | Why Our Families Can't Afford America; Dr. Christian Weller, University of Massachusetts Boston; and Dr. Juliette Cubanski, Kaiser Family Foundation.
NIRS reports and experts were cited in more than 1,500 news stories, including The Wall Street Journal, The Washington Post, CNBC, and Forbes.
NIRS hosted 22 webinars for nearly 3,000 attendees on topics including the economic impact of the COVID-19 pandemic, state-sponsored retirement savings programs, and proposed changes to actuarial standards.