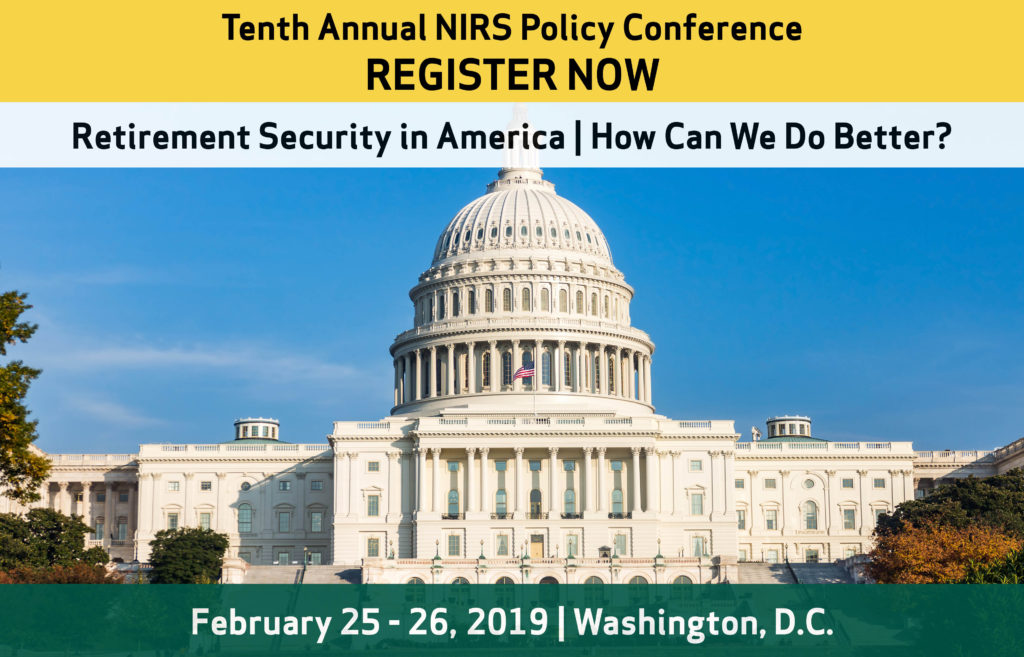 Save the date for NIRS' Tenth Annual Retirement Policy Conference on February 25-26, 2019, in Washington, DC! Like last year, the conference will be hosted at The Westin City Center at 1400 M Street N.W. in Washington, DC.
Register for the 2019 NIRS Policy Conference today here!
The conference is exclusive to NIRS members and special invited guests. Again this year, registration is complimentary for NIRS members. Be sure to renew your 2019 membership to secure your seat. If you aren't a member, we invite you to support our work by becoming a member.
Haven't renewed your 2019 membership yet? Renew or upgrade today to take advantage of this complimentary and exclusive members only event. To discuss membership, retrieve your login information, or receive another copy of your invoice, please contact NIRS manager of membership services Jake Ramirez at jramirez@nirsonline.org or 202.457.8190.
Conference Agenda*
Monday, February 25, 2019
5:30 PM Networking Reception
Tuesday, February 26, 2019
7:30 AM Networking Breakfast
8:15 AM Opening Remarks
8:30 AM Keynote Conversation | The Value of a Good Retirement, Jim Keohane, President and CEO, Healthcare of Ontario Pension Plan
9:00 AM Keynote Conversation | Dealing with an Aging Society, Dr. James Poterba, Mitsui Professor of Economics, MIT, and President, National Bureau of Economic Research
9:30 AM Policy Conversation | Workforce Implications of Retirement Benefits
10:30 AM Networking Break
11:00 AM Keynote Conversation | What Do Americans Think About Retirement?
11:30 AM Keynote Conversation | Educators & Retirement Security
12:00 PM Networking Lunch
1:00 PM Panel Conversation | Doing Better Today Can Improve Retirement Prospects
2:00 PM Keynote Conversation |  The Value of Long Term Pension investing
2:30 PM Closing
*Tentative Agenda — Subject to Modifications to Accommodate Speakers