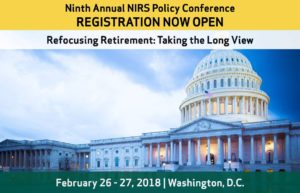 The National Institute on Retirement Security is pleased to host its Ninth Annual Retirement Policy Conference, Refocusing Retirement: Taking the Long View.
The conference is scheduled for Monday, February 26 – Tuesday, February 27, 2018, at The Westin City Center, which is located at 1400 M Street N.W. in Washington, D.C.
Again this year, the event is exclusive to members, and registration is complimentary for NIRS members. However, seating is  limited. Members are encourage to secure their seat early!
We're pleased to announce that our opening keynote speaker is Gene Dodaro, United States Comptroller General and Head of the U.S. Government Accountability Office (GAO). You may have seen GAO's recent report, The Nation's Retirement System: A Comprehensive Re-evaluation Is Needed to Better Promote Future Retirement Security. This report recommends that Congress establish an independent commission to examine the U.S. retirement system, clarify key policy goals, and improve how the nation can promote a more stable retirement.
At the conference, NIRS will release new research examining the retirement plight of Millennials. This generation of more than 95 million Americans born between the 1980s and early 2000s is facing enormous challenges when it comes to preparing for retirement. Additionally, the event will feature thought-provoking keynote presentations and panels to explore topics such as short-termism, education and technology as it relates to retirement.
Not yet a NIRS member and interested in attending?  Please contact NIRS manager of membership services, Jake Ramirez, at jramirez@nirsonline.org or 202.457.8190.
We hope you can join us. Please stay tuned for more details on the agenda and speakers!