Typical Working-Age Household Has $3,000 Saved for Retirement; Retirement Underfunding Ranges from $6.8 to $14 Trillion
Webinar on Thursday, June 20, 2013 at 11 AM ET
WASHINGTON, D.C., JUNE 20, 2013 – A new research report calculates that the magnitude of the retirement savings shortfall is staggering. When all working-age families are counted, the typical family has only a few thousand dollars saved for retirement. Four out of five working families have retirement savings less than one times their annual income. Because of this dangerously low level of savings, the U.S. retirement savings deficit is between $6.8 and $14.0 trillion, depending on the household assets counted.
These findings are contained in a new research report, The Retirement Savings Crisis: Is it Worse Than We Think?, issued today by the National Institute on Retirement Security (NIRS ). The full study is available here. A webinar to review the findings is scheduled for Thursday, June 20, 2013 at 11 AM ET. Register here or at https://www2.gotomeeting.com/register/605030506.
"We wanted to broadly examine how American households are faring in relation to retirement savings targets recommended by some financial services firms," said Nari Rhee, report author and NIRS manager of research. "We used the Federal Reserve's Survey of Consumer Finances to analyze retirement plan participation, savings, and overall assets of all U.S. households age 25 to 64, not just those with retirement account assets. This is important because some 45 percent, or 38 million working-age households, do not have any retirement account assets."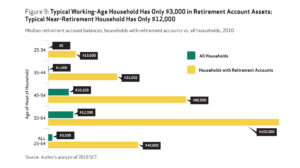 Rhee added, "Our findings confirm that the American Dream of retiring comfortably after a lifetime of work will be impossible for many. Based on 401(k)–type account and IRA balances alone, some 92 percent of working households do not meet conservative retirement savings targets for their age and income. Even when counting their entire net worth, 65 percent still fall short."
Diane Oakley, NIRS executive director said, "Two recessions and a prolonged economic recovery have made a difficult retirement outlook even worse. Employers have dialed back on workplace retirement plans, while many households struggle to save as they cope with higher living expenses and stagnant wages. Left unaddressed, the twin challenges of low access and low savings likely will result in grave consequences. We can expect substantial increases in public assistance costs, and even greater demands on strained families and social service organizations to help older Americans who just can't make it on their own."
Oakley added, "The data is grim, but I want to be as optimistic as the kindergarten teacher who tells students they 'need improvement.' Retirement policy can improve with reforms in three areas to help all Americans and encourage greater savings: 1) strengthen Social Security; 2) expand low- and middle-wage workers' access to retirement savings via payroll; and 3) expand the incentives of the existing Saver's Credit."
The report key findings are as follows:
Account ownership rates are closely correlated with income and wealth. More than 38 million working-age households (45 percent) do not own any retirement account assets, whether in an employer-sponsored 401(k) type plan or an IRA. Households that do own retirement accounts have significantly higher income and wealth—more than double the income and five times the non-retirement assets—than households that do not own a retirement account.
The average working household has virtually no retirement savings. When all households are included— not just households with retirement accounts—the median retirement account balance is $3,000 for all working-age households and $12,000 for near-retirement households. Two-thirds of working households age 55-64 with at least one earner have retirement savings less than one times their annual income, which is far below what they will need to maintain their standard of living in retirement.
The collective retirement savings gap among working households age 25-64 ranges from $6.8 to $14 trillion, depending on the financial measure. A large majority of households fall short of conservative retirement savings targets for their age and income based on working until age 67. Based on retirement account assets, 92 percent of working households do not meet targets. Under broader measures, most households still have insufficient assets: 90 percent fall short based on retirement account balances and estimated DB pension assets combined, 84 percent fall short based on total financial assets, and 65 percent fall short based on net worth.
Public policy can play a critical role in putting all Americans on a path toward a secure retirement by strengthening Social Security, expanding access to low-cost, high quality retirement plans, and helping low-income workers and families save. Social Security, the primary edifice of retirement income security, could be strengthened to stabilize system financing and enhance benefits for vulnerable populations. Access to workplace retirement plans could be expanded by making it easier for private employers to sponsor DB pensions, while national and state level proposals aim to ensure universal retirement plan coverage. Finally, expanding the Saver's Credit and making it refundable could help boost the retirement savings of lower-income families.
The full report is available here and at http://www.nirsonline.org.
The National Institute on Retirement Security is a non-profit organization established to contribute to informed policymaking by fostering a deep understanding of the value of retirement security to employees, employers, and the economy through national research and education programs. Located in Washington, D.C., NIRS has a diverse membership of organizations interested in retirement including financial services firms, employee benefit plans, trade associations, and other retirement service providers.
Contact: Kelly Kenneally 202.457.8190 o 202.256.1445 m kkenneally at nirsonline.org