Eighty-two percent of Coloradans agree that the nation faces a retirement crisis, and this anxiety holds steady for both older and younger Coloradans.
A new study finds that 72 percent of Coloradans believe that economic conditions are impacting their ability to achieve a secure retirement. They cite the rising cost of long-term care, salaries not keeping up with the cost of living and debt as major factors making retirement difficult.
Those aged 54 years and younger are more nervous about the security of their retirement than are those older (and thus closer) to retirement, with 44 percent of the younger demographic stating that they feel unprepared, frightened/concerned, and unsettled about preparing for retirement, compared to 31 percent of those aged 55 and older.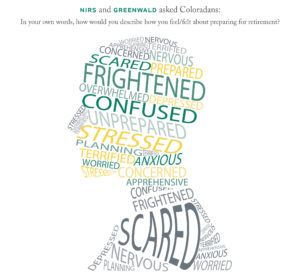 What Do Coloradans Think About Economic Security in Retirement? It's a Rocky Road to Retirement finds that:
In overwhelming numbers, Coloradans are worried about their economic security in retirement. Some 82 percent agree that the nation faces a retirement crisis, and this sentiment is held by both younger and older Coloradans.
Coloradans are trying to prepare for retirement, but say they need political leaders to pay more attention. Among the top ways that Coloradans say they are preparing for a more secure retirement is by working as long as possible (80 percent), cutting spending in retirement (62 percent), and saving a little more now to ensure a financially secure future (58 percent). Forty-four percent of younger Coloradans say they will save 5% or more now to help achieve economic security in retirement, as compared to 26 percent of those aged 55 years and older. Despite these efforts, Coloradans as a whole believe that leaders in Washington don't understand the retirement struggle they face (84 percent), and need to do more.
Coloradans place a high value on their retirement benefits, and are particularly favorable toward pension benefits that provide monthly checks. Coloradans place a high value on retirement benefits when making job decisions (69 percent). They see pensions as a driver of retirement security (82 percent), say pension disappearance is harming their ability to achieve the American Dream (79 percent), and believe these benefits should be available to all workers (77 percent).
The research is based on a statewide telephone interview by Greenwald & Associates of 400 Coloradans aged 25 or older to assess their views toward their economic security in retirement and what can be done to improve their outlook. Greenwald & Associates balanced the data to reflect the demographics of Colorado for age, gender, and income. The margin of error is plus or minus 4.9 percent. Sums of two or more figures may not equal the expected total due to rounding.