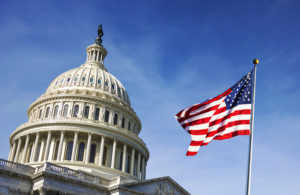 Measure is Step Forward in Addressing U.S. Retirement Savings Crisis

Despite Political Acrimony, Americans United in Concern About Retirement
WASHINGTON, D.C., December 19, 2019 – At a time when working Americans are struggling to save for retirement, the National Institute on Retirement Security (NIRS) commends the U.S. Senate and House of Representatives for bi-partisan passage of the spending bill with provisions of the Setting Every Community Up for Retirement Enhancement (SECURE) Act.
Despite deep political polarization, research indicates that Americans are united in their concern about retirement. In overwhelming numbers, Americans agree the nation faces a retirement crisis, with Democrats at 80 percent, Republicans at 75 percent, and Independents at 75 percent.
"The bill will expand access to retirement plans for part-time workers, and this is likely to improve retirement plan access for nearly 30 million Americans shut out of workplace savings plans," said Dan Doonan, NIRS executive director. "Today, about half the workforce lacks access to workplace retirement plans, which are critically important for empowering Americans to save for their future. Providing these employees with a vehicle to save will begin to address the massive retirement savings deficit facing the U.S."
According to the Bureau of Labor Statistics, some 27.56 million people were employed on a part-time basis in November 2019. Also, NIRS research indicates the nation faces a retirement crisis: the median retirement account balance among all working individuals is $0.00. The data also indicate that 57 percent (more than 100 million) of working age individuals do not own any retirement account assets in an employer-sponsored 401(k)-type plan, individual account or pension.
"Another important element of the bill will support Americans working for small businesses. The SECURE Act sets the stage for small businesses to join together to offer retirement plans while offering tax credits to companies that provide such retirement plans. Nearly half of small businesses don't offer retirement plans, so the legislation should spur change," Doonan explained.
"Other provisions of the bill will enable Americans to save longer and better manage their nest egg once they have retired," Doonan stated. "Given that we are living longer, it is important that the legislation will allow those aged 70.5 to continue saving in an Individual Retirement Account (IRA) if they continue to work while also increasing the age for beginning required minimum distributions from 70.5 to 72."
More information on the nation's retirement savings shortfall is available in a recent report, Retirement in America | Out of Reach for Most Americans?. Data on the growing problem of financial asset inequality across generations is available here.
The National Institute on Retirement Security is a non-profit, non-partisan organization established to contribute to informed policymaking by fostering a deep understanding of the value of retirement security to employees, employers and the economy as a whole. Located in Washington, D.C., NIRS' diverse membership includes financial services firms, employee benefit plans, trade associations, and other retirement service providers. More information is available at www.nirsonline.org. Follow NIRS on Twitter @nirsonline.